Acting to Prevent, Reduce and End Homelessness
Building on last year's historic $12 billion investment in homelessness and housing services, California's proposed 2022-23 budget adds another $2 billion to support and expand the ongoing work aimed at preventing, reducing and ending homelessness. By providing data that allows California to measure progress towards these goals, the Homeless Data Integration System (HDIS) plays a pivotal role in the state's comprehensive strategy to get more Californians into safe, stable living environments and to connect them to the health services that they need.
California's Homelessness Response System Acts to Serve those in Need
Between 2017 and 2020, CoCs across California have increased efforts to address the homelessness crisis by serving 40% more people experiencing homelessness (183,078 in 2017 compared to 255,644 in 2020).
Subpopulations of Californians Experiencing Homelessness who Accessed Services
Homelessness services that are tailored specifically for adult individuals, families, youth, and other subpopulations are necessary to provide the right kinds of housing support.
In 2020, of those who experienced homelessness and accessed services in California:
162,996 people were adults living alone or in the company of other adults (referred to as individuals).
89,470 were people in families with children.
Within those subpopulations, there were 23,011 unaccompanied youth (up to age 24) who experienced homelessness and accessed services in California during 2020.
We have an opportunity to act to address homelessness with an equitable approach.
Racial inequities and homelessness are inextricably linked. The number of people experiencing homelessness does not mirror the racial makeup of the state. Black or African American people in California are overrepresented in homelessness--representing 6% of the state's population but 30% of those accessing homelessness services in 2019. California is committed to tackling racial disparities in homelessness through the implementation of Cal ICH's Action Plan for Preventing and Ending Homelessness in California.
Reliable data about the demographic characteristics of people being served allows state and local governments to target resources to meet the diverse needs of people experiencing homelessness and evaluate if these efforts are effective.
People Access Homelessness Services Locally
Data from HDIS shows that over a three-year timespan, very few people experienced homelessness in more than one California CoC. Of the people who did access services in multiple jurisdictions, most did so in adjacent or neighboring CoCs, suggesting homelessness within California is not a problem of migration. Among the records analyzed in HDIS:
The HDIS is a statewide data warehouse of data from the 44 local homelessness response systems in California
HDIS compiles and processes data from all 44 California Continuums of Care (CoC)—regional homelessness service coordination and planning bodies—into a statewide data warehouse. Each CoC collects data about the people it serves through its programs, such as homelessness prevention services, street outreach services, permanent housing interventions and a range of other strategies aligned with California's Housing First objectives.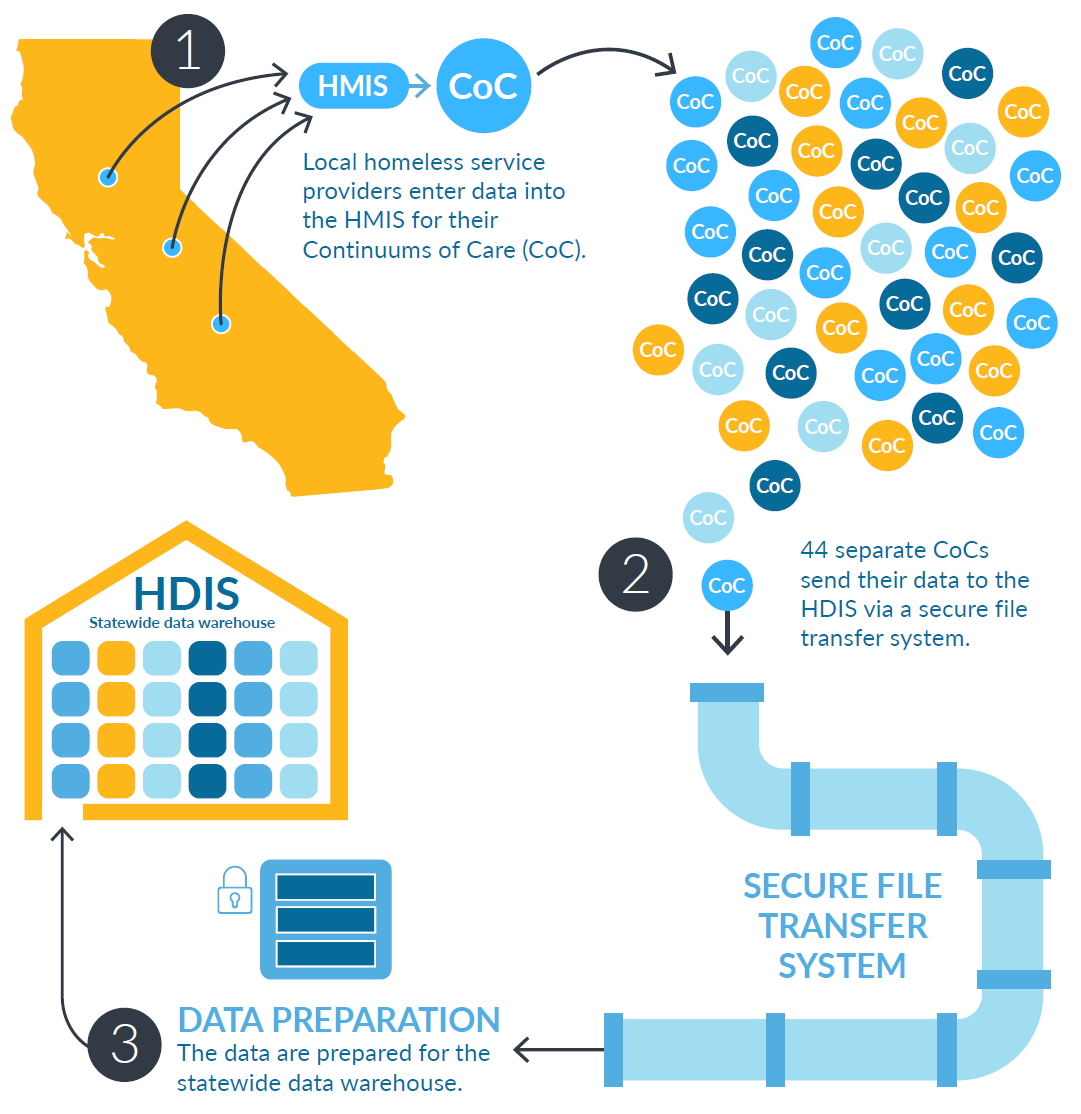 Process:
Services are entered by local entities providing prevention, outreach, emergency sheltering, rapid rehousing, and other permanent housing , and other services.
Cal ICH collects data on a quarterly basis by working with CoCs.
Once ingested into HDIS, data is standardized, cleansed, de-duplicated, and matched, which makes the data much more accurate when looking at statewide figures.
What's Next for HDIS
During the first half of 2022, Cal ICH will be working to establish systemwide performance measures that will help the state and local jurisdictions better assess their progress toward preventing, reducing and ending homelessness in California. Once finalized, we will be updating the HDIS website to focus more on the outcomes of people accessing services through the California homelessness response system.
---
For more information about how HDIS was built, for the release notes, or to submit an inquiry, check out HDIS Development and Inquiries
Are you experiencing homelessness and need assistance? Check out Continuum of Care Points of Contact.
If you have questions, please contact HDIS@bcsh.ca.gov.
HDIS is administered by the California Interagency Council on Homelessness, which is housed within the Business, Consumer Services and Housing Agency (BCSH).
Data Sources and Notes
Note: Unaccompanied youth can also be counted in the Individuals and Families categories and therefore should not be summed with those categories.
Definition of Experiencing Homelessness: People are considered to be "experiencing homelessness" at any point in the selected time frame if they: 1) accessed lodging services through Emergency Shelter, Transitional Housing, and/or Safe Haven projects: 2) entered into a permanent housing project from homelessness (i.e., Permanent Supportive Housing, Housing Only, Housing with Services, Rapid Re-Housing); or 3) reported living in a homeless situation (e.g., they are living in a place not meant for habitation, such as a vehicle) at the time they accessed other services. This is an expanded version of the definition employed by the US Department of Housing and Urban Development (HUD). When determining the number of people experiencing homelessness in the homelessness response system for the Annual Point-in-Time Count, HUD only counts people accessing Emergency Shelter, Transitional Housing, and/or Safe Haven services.
Homeless Data Integration System (HDIS): HDIS includes Federally-required data collected from all service providers that participate in CoCs' local Homeless Management Information Systems (HMIS). However, not all providers participate in HMIS. Independent providers that do not receive Federal funding or certain State funding can opt out of participation in local HMIS. Dedicated domestic violence victim service providers are barred by Federal law from entering their clients' data into HMIS and maintain separate data systems. Some permanent housing programs for veterans are also captured in a separate data system from HMIS. Additionally, not all people experiencing homelessness are captured in HDIS. People experiencing homelessness who do not access services are not captured in local HMIS or HDIS. Certain unaccompanied youth providers may not be allowed to share complete client data with HDIS. HDIS cannot determine which people in Yuba/Sutter CoC were experiencing homelessness due to incomplete data. Therefore, Yuba/Sutter CoC does not appear in the CoC drop-down menus nor in the total numbers in any visualizations on this website.